To build the first all inclusive turn key NFT Platform for buyers and sellers which provides clients the opportunity to generate significant revenue whilst delivering real benefits for their customers.
Company name: The NFT Marketplace Limited Company number: 13612921
Lawyers: Aticus Law Solicitors, Queens Chambers, 5 John Dalton Street, Manchester, M2 6ET
Accountants: Carl Ford Accountancy Limited, 8 Bridge Street, Tamworth, B78 1DT
Bankers: Virgin Bank, Jubilee House, Gosforth, Newcastle upon Tyne, NE3 3PL
Advisers: Taylor Black Wealth Limited, 20-22 Wenlock Road, London, N1 7GU
Finding businesses/companies/people that know this market
Having to go to multiple places to find NFT specialists
Knowing the credibility of businesses and if they are capable of delivering
Wasting money on marketing and influencers
Funding the launch (capital raising)
Knowing which platforms produce ROI's and how to reach your audiences to achieve ROI's
Maintaining knowledge and keeping up to date with the ever evolving industry
High gas fees across multiple blockchains

Platform Features/Benefits/Solutions
Bringing all the requited NFT services into one place
Credibility check of businesses with ratings based on previous experience
A platform to pitch and raise money peer to peer
Experienced marketing and influencer agencies to give a step by step plan for a real achievable ROI
Expert consultants to give end to end advice on a roadmap and utility
Experienced Devs/Coders to ensure full functionality and delivery
A seed round of funding is underway with a target raise of £2,000,000 which is being deployed into i. Public listing of NFTM stock £500,000 ii. Beta stage platform development £750,000 iii. Marketing to align with significant hospitality brands £250,000 iv. NFTM token launch £250,000 v. PR marketing post list £250,000.
Target date for raise September/October 2022 Target date for Public list Q3/Q4 2022
Target date for Beta launch Oct/Nov 2022
These dates are subject to a regulatory process and are approximate. All investors/Shareholders will recieve regular updates.
Target market cap on list $100m
Operation: The NFT Marketplace Limited will provide operationally a 'one stop shop' for NFT's which will generate multiple streams of revenue throughout its platform. Each on figure 1 below can generate income from buyers and sellers.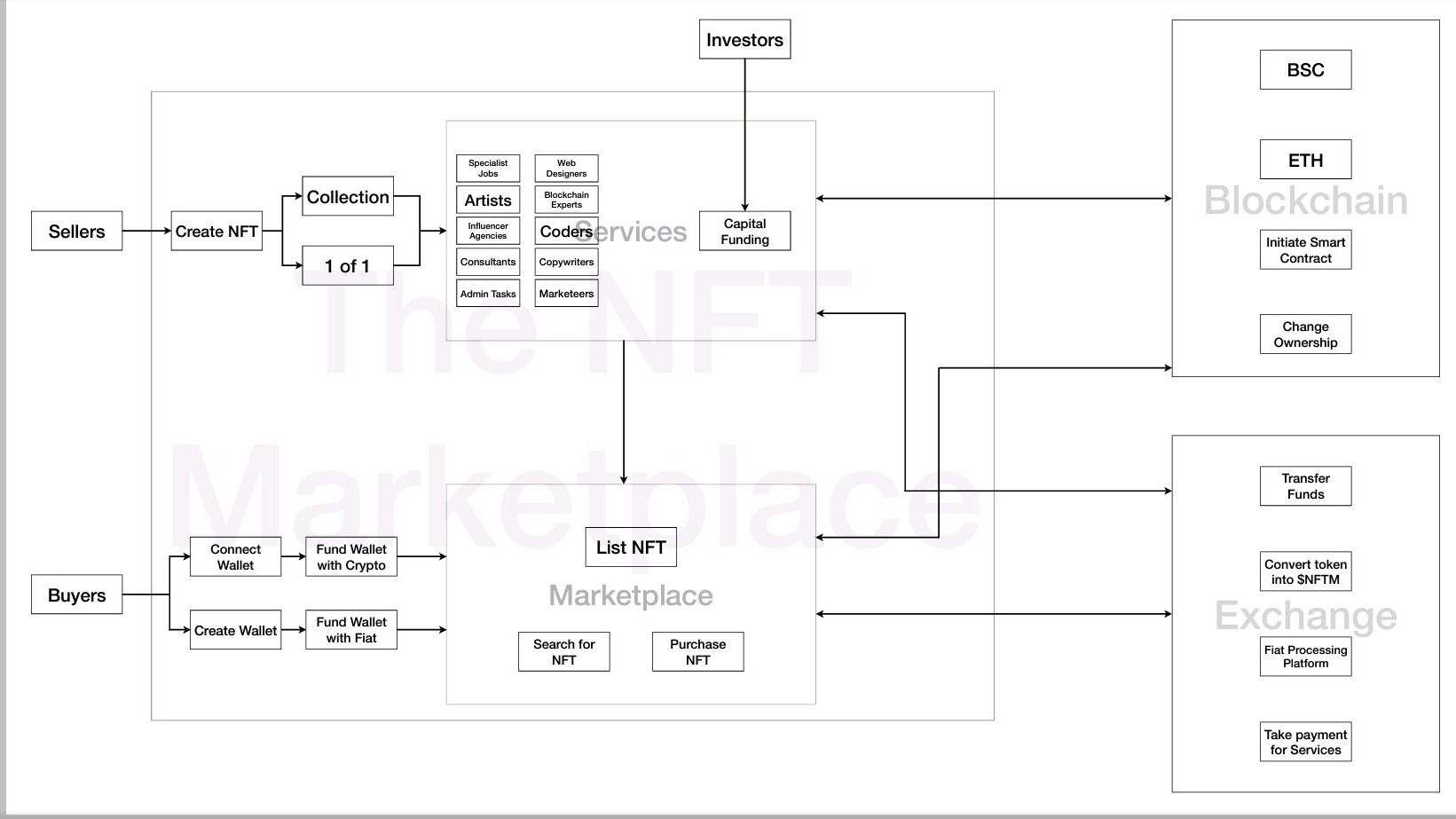 Market: The NFT Marketplace Limited will provide real shareholder value once listed through its expected capital growth. This sector has already shown huge valuations and investor appetite.